For many of us, stepping into a bathtub, at the end of a hectic day, is the best way to unwind. In fact, a bathtub is no more just an interior accessory, but also an integral component of luxury today.
If you have been dreaming to install a bathtub for your new house, then you must already know that these are of various types and sizes and each is designed to suit individualistic preferences.
So, here are the various kinds of bathtubs, to help you select the best one for your needs.
Various bathtub types & their prices
1. Alcove Tub
Best for bathrooms offering limited spaces; this bathtub combines functionality with form. Also known as the three wall alcove style, these bathtubs come with a shower head at the top to owe maximum convenience. After installing it at home, you can decorate it the way you like, to give it a high-end luxe look.
Alcove style bathtubs are found in smaller apartments and homes and you can get them within the range of $350 -$5000.
2. Claw-foot Tub
If you want beauty to preside in your bathroom in the form of a bathtub then don't be in denial anymore and choose this now! An innovative option combining the best of function, form, and beauty, its undeniable vintage aesthetics would surely appeal to your senses.
From the high and romantic slopes of the tub to its intricate clawed feet, it demands considerable space. If you are considering buying it by paying price, ranging from $600 to $5000 dollars, be sure to maintain it every day to preserve its look.
3. Corner Tub
Unlike the alcove tub, the corner tub makes the most of the most of the two walls of your bathroom. This type of bathtub is most cherished owing to the versatility it owes to the bathers. The corner tub can resemble a raised platform or a triangularly shaped tub. Offering maximum functionality, this bathtub's price can vary depending on the shape and size of the tub.
4. Drop-in Tub
If you want to break out of the usual corner and alcove tubs, then the drop-in tub might be the best option for you. Also known as platform tubs, the tubs are infused with the drop-in feature that allows the rim of the tub being flushed with the deck of the tub it is installed on.
Usually, you will have to ask a carpenter to build a deck. It is important to be noted, that this tub requires much free space and costs $700 to $5000.
5. Undermount Tub
These styles look more or less like the drop-in tubs, but there are some differences as well. The major difference is the rim of this tub is covered, unlike the drop-in or platform tubs. Like the platform tubs, it is supported on top of a supportive deck that should be built in advance before bringing the tub home. The price of the tub changes according to the materials like stone and tiles which cover the rim.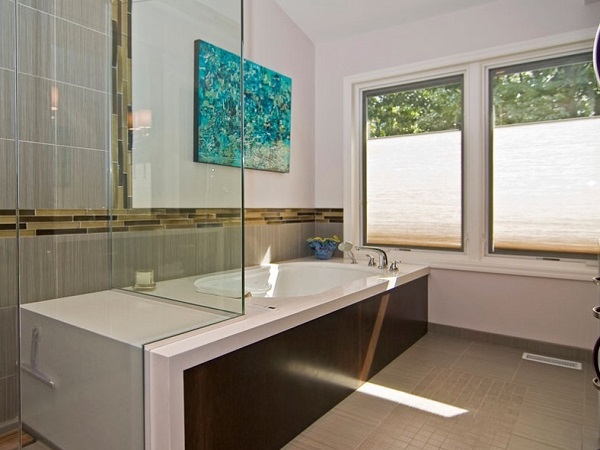 6. Hot Tubs
If relaxation and rejuvenation are your priorities, then nothing except blissful hot tubs with relaxing properties can serve you the way you yearn for. Infused with air jets, hot tubs are the perfect place to acquire restoration and rejuvenation.
If your bathroom is equipped with fancy decor elements like marble floors, tiled walls, and panoramic windows, hot tubs are an essential component of your shower room.  Needless to say, hot tubs can be pricey and can cost you something around $5000 to $8000.
7. Japanese Style Tub
Bring this tub, called soaking tub at home and you would never have to visit the spa again! One of the beautiful tub designs in existence today, its gently sloping walls and freestanding design gives it an instant charm.
This type of tub designs just allows you to soak after a bath to achieve bliss as you do in spas. You can get it for $2000 to $5000 bucks.
8. Freestanding Tub
Comes with a striking visual impact, this will add an instant sophistication in your bathroom. Install these at the center of your bathroom for visual stimulation and earn compliments from your friends and relatives.
These are available within the price range of $2000-$5000.
9. Walk-in Tub
This tub comes in aid of individuals having mobility issues. Veterans can make the most of this type of tub and can bath on their own.
First, analyze your budget and the space of your bathroom and then determine which style of the tub which would enhance the look of your bathroom!