When it is about your interior design, colours are not to be taken lightly. You might not know this, but adding a certain colour combination can change your mood and might make your room feel smaller or bigger by creating an optical illusion.
Colours also give us a certain state of mind and make us feel happy, calm, energetic, relaxed, and safe and increase the ability to concentrate and remember the happy memories.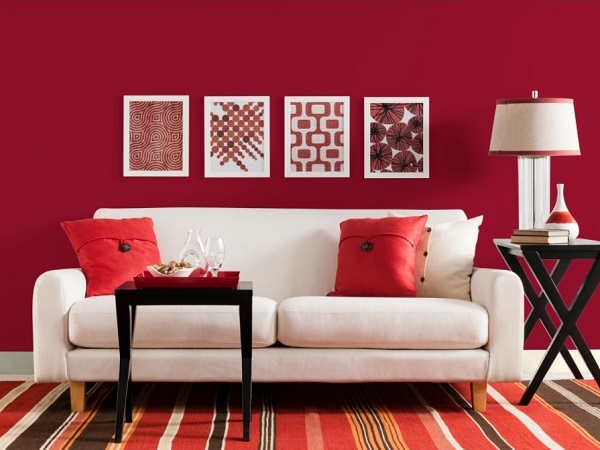 If you are planning to play with the colour red for your home interiors, here are a few innovative ideas you could use:
Red gives a vibrant, resonant and stimulating theme for rooms
Red is a very bold colour but a warmer shade can make you feel really good. Use of red colours in the house can increase the level of passion and increase your level of commitment to your work life. It is said to have a good effect on your social life.
Make your bathroom look classy
You can use classic red tiles on your bathroom walls with some simple designs to add an artistic touch that is satisfying. This will make even your boring activities in the bathroom more interesting!
Make your kitchen more vibrant
Add a dash of red to the kitchen. You can turn the shelves and the chairs to red while keeping the walls white, to add a tasteful look to the kitchen. Red is a bold colour and also makes you happy. It is also said to have a good effect on your appetite.
Asian Themes might work well for you
Asian themes are in fashion now, and they have always been one-of-a-kind. You can turn your bedroom ceiling to a beautiful Asian cherry blossom forest with tints of red and pink. These themes look pretty vibrant and are pleasing to the eyes at the same time. Your guests will never stop being awestruck by looking at the ceilings.
Curtains can be redecorated
You can turn your dull old curtains to vivid eye-catching ones in red, and make even the window sill more interesting. This will make your room look more interesting in an instant, and change the dull and boring vibes into something more stimulating.
Bedrooms look bolder and classic
Red being a bold colour has to be combined with more soothing and light shades; but what is lighter than white? You can use white bed sheets with red bed covers with beautiful designs on them and that adds a more energetic feel to the rooms.
A retro theme to your appetite
During the 1900s, red was in fashion in the restaurants and clubs with everything painted all red. That idea can add a retro look to your dining room as well. You can set up a crimson red dining table and chairs to your dining space and complete the vibrant look.
Red being a classy colour can match with almost everything in your house and makes the interiors look more attractive.