Red color reflects intensity, love, passion, energy, excitement and many other properties that will make you fall in love with red and have it on the walls of your living room. Living room is a place where our guests, friends and relatives spend their early moments as they arrive in the home.
Using fall red in the home: A clear, warmish red, the color of sugar maple leaves, is a conversation-inducing color ideally suited to a dining room or sitting room.
A professional from Callaway Architects said, "The red color in design. Red is a primary color, but it has full range of reds stretches from pale pink to deep mulberry. If you want to incorporate red into living room decor, the most vivid medium reds are best in smaller doses, while the lighter and darker ends of the red spectrum tend to feel more comfortable across a larger space."
Decorator Anthony Baratta said, "The best way of combining a lot of strong colors in an area: Pay attention to proportion and scale. In this living area, the strong zones of color help to buoy and balance one another: red wall, orange sofa, yellow chaise, blue and green rug. Take away any of these elements and the whole composition would feel off-kilter. Small visual echoes, such as the red rug border and the rainbow of framed polka dots, tie the room together."
Interior designer Alex Maguire said, "Patterned rugs don't have to cost the earth, but they can give a room a designer feel that it may be otherwise lacking. This cool geometric number has red accents that work with the corner sofa and complement the modern artwork. Placing a rug square on to a sofa with an artfully arranged coffee table in the centre will instantly pull a living room together."
One of the popular interior decorator from Georgia, USA, Brian Patterson said, "If you like bold colors, push the envelope a bit by pairing red walls with hot pink and navy blue furniture. Like the opulent hues of an Indian sari, red, pink and navy make a vivacious combination."
Professional designer from Dillard Pierce Design Associates said, "Go beyond the classic red front door and bring this bold hue inside. Make an impact with an incredible accent wall or keep things simple with a few striped pillows."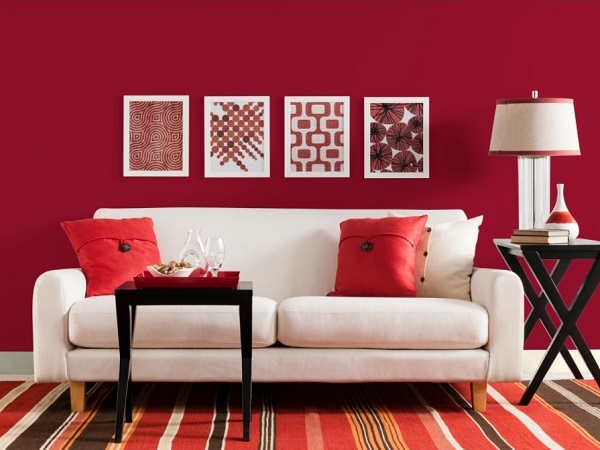 How do you like the idea of introducing red color in living room decor? Share your thoughts in comment section.